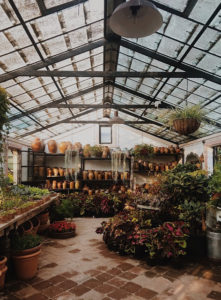 Introduction: Why have a greenhouse?
In this article, we will ask the question, how to start a greenhouse? A greenhouse is a building with walls and a roof made mostly of transparent material, such as glass. Greenhouses are used to grow plants that need extra warmth and protection from the weather.
There are many benefits to having a greenhouse. One benefit is that you can control the climate inside the greenhouse, which means you can grow plants that wouldn't normally be able to grow in your area. Another benefit is that greenhouses can extend the growing season by protecting plants from cold weather.
If you're thinking about getting a greenhouse, there are a few things to keep in mind. First, you need to choose a location for your greenhouse that gets plenty of sunlight. Second, you need to make sure the greenhouse is big enough for all the plants you want to grow.
Step 1: Planning
A greenhouse is a great way to garden all year round, but there are a few things you need to do before you get started. Here are the first steps to planning your greenhouse.
1. Decide what type of greenhouse you want. There are many different types of greenhouses available on the market, so it is important to do your research and find the one that best suits your needs.
2. Choose a location for your greenhouse. You will need to find a spot in your yard that gets plenty of sunlight and has good drainage.
3. Determine how big you want your greenhouse to be. This will depend on how much space you have available and how many plants you want to grow.
4. Once you have all of this information, you can start shopping for a greenhouse kit or plans.
Step 2: Building the structure
When it comes to building a greenhouse, there are a few key things to keep in mind. The first is the type of structure you want. There are a variety of options, from simple hoop houses to more complex designs. It's important to choose something that will meet your needs and budget.
The next step is to build the actual structure. This can be done with a variety of materials, from wood to metal. Again, it's important to choose something that will work well in your climate and that will last for years. Once the framework is up, you can add panels or glazing to help regulate temperature and light levels.
Finally, don't forget about ventilation. Greenhouses can get very hot, so it's important to have some way to cool them down. Ventilation also helps prevent condensation and mould growth.
Step 3: Heating and cooling
As the sun's energy hits a greenhouse, the air inside the structure heats up. In order to keep the plants inside from overheating, the greenhouse needs to be able to release that heat. The most common way to do this is by opening vents or windows. By doing this, you are also exchanging the hot air for cooler air from outside. This process is called convection and it is how most greenhouses regulate their temperature.
As the weather outside begins to cool, you may find yourself using your furnace more often. But did you know that your greenhouse can actually help keep your home warm in the winter and cool in the summer? By following a few simple steps, you can use your greenhouse to help regulate the temperature inside your home, saving you money on heating and cooling costs.
In the winter, open up your greenhouse windows during the day to let in sunlight. Then, close them at night to trap heat inside. You can also place a fan inside the greenhouse to circulate warm air into your home. In the summer, do the opposite – close the windows during the day to keep heat out and open them at night to let cool air in. By following these simple steps, you can use your greenhouse year-round to help regulate the temperature inside your home and save money on energy costs.
Step 4: Ventilation
Ventilation is one of the most important aspects of greenhouse management. It affects temperature, humidity, and carbon dioxide levels inside the greenhouse. Adequate ventilation is essential for plant growth and to prevent plant diseases.
There are two types of ventilation: forced and natural. Forced ventilation uses fans to circulate air inside the greenhouse. Natural ventilation relies on wind and convection to move air.
Properly sizing and installing fans is critical for forced ventilation systems. Greenhouses should have at least one fan for every 1,000 square feet of floor space. The size and number of fans will vary depending on the climate, type of plants grown, and desired growing conditions.
Natural ventilation can be enhanced by strategically placing vents and openings in the greenhouse. The placement of vents will depend on the direction of prevailing winds in your area.
Step 5: Lighting
In any greenhouse, lighting is one of the most important factors to consider. Without proper lighting, plants will not be able to grow.
There are a few things to keep in mind when choosing lighting for a greenhouse. First, the type of lightbulb is important. Greenhouses typically use either high-pressure sodium (HPS) or metal halide (MH) bulbs. HPS bulbs produce more red light, while MH bulbs produce more blue light.
Second, the intensity of the light is also important. The light should be bright enough to allow the plants to photosynthesize properly but not so bright that it burns the leaves.
Finally, the duration of the light is also important. Most plants need at least 8 hours of light per day in order to grow properly.
Conclusion
A new study has found that greenhouses may be more effective at trapping heat than previously thought.
The study, conducted by researchers at the University of California, San Diego, looked at the impact of greenhouses on the Earth's energy budget.
They found that while greenhouses do trap heat, they also reflect some of the Sun's energy back into space.
This means that the net effect of a greenhouse is to cool the planet rather than warming it.
The study has important implications for our understanding of climate change. It suggests that greenhouse gases may not be as responsible for global warming as we thought.